Description
IN STOCK - BUY NOW

DELIVERY DETAILS:
Same-day dispatch. If the order was placed on the weekend - dispatch will be on Monday
DESCRIPTION:
This 3M 8511 Particulate Respirator N95 Mask, is one of the best selling on the market. This pack of 10 masks is the perfect fit for families, small businesses, or health specialists and doctors on the forefront. This mask is NIOSH approved, due to its abilities to provide at least 95 percent filtration effectiveness against non-oil based particles.
The 8511 is used to protect against solid particulates and mist, is disposable and easy to use. The user is provided a comfortable and cooling experience - the valve helps reduce heat build up. With its easily adjustable M-Nose clip- this mask is exceedingly more comfortable than other competing brands, with fewer pressure and greater comfort. Additionally the mask is lightweight and easy to travel with, or in.
The braided headbands two-strap design provides a secure seal to avoid the mask slipping or falling off.  This mask is sold online, and can be shipped today to ensure all your needs.
Clinical Supplies USA is not affiliated with 3M Company.
Customer Reviews
Customer Reviews
lin w.
United States
11/02/2020
Great product!
fastest delivery
Douglas D.
United States
11/02/2020
Excellent service with N-95 masks
Delivered on time, as advertised.
Kainnon V.
United States
11/02/2020
5 star service
quick shipping , great product
Jennifer
United States
10/09/2020
Awesome!
Bought a box of 3M 8511 respirators for my family. Excellent fit, comfortable design, high-quality nose clip, and the awesome valve! The valve makes breathing much easier, and when I am in close proximities of other people, I can add a 3-ply disposable mask (also made in the USA from Clinical Supplies) to protect those around me, too!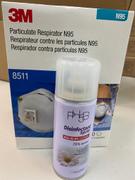 10/03/2020
I really like the fact that this mask has a valve. If you're like me and you are asthmatic, a bag may give you that psychological sense that you are being protected against the elements. The only thing that I do not like is the fact that I may feel protected and I eventually forget about the safety protocols if I do go outside so that is a concern that I should probably take care of myself.
Payment & Security
Your payment information is processed securely. We do not store credit card details nor have access to your credit card information.