Description
IN STOCK - BUY NOW
DELIVERY DETAILS:
Same-day dispatch for all weekday orders. If you place an order during a weekend, it will ship on Monday.
DESCRIPTION:
This 20 pack of 3M 8210 N95 masks is perfect for smaller businesses and their employees, along with families and individuals. The two-strap design and adjustable nose clip work together to create a tight, powerful seal to protect the wearer from 95 percent of non-oil-based particles (including viruses). The 3M N95 8210 mask has a stellar reputation and is trusted by some of America's largest companies, government entities, and countless healthcare workers. Its construction is extremely lightweight, making it comfortable to wear for hours on end. 
The 3M N95 8210 face mask is a recommended product and specifically designed for protection against the inhalation of dangerous particles. The Advanced Electret Media construction makes breathing nearly effortless, while providing top-notch protection. This mask is recommended for industries including construction, design, food processing, general manufacturing, and healthcare. 
Manufactured in St. Paul, Minnesota, USA.
Customer Reviews
Customer Reviews
Mike

United States
12/28/2020
Great people to buy from
They are very reliable, the masks came much more quickly than expected. They are real and high quality.
Beth J.

United States
10/09/2020
Perfect fit.
I purchased the 3M 8210 respirators for me and my family when we are in high-risk environments. I was originally worried about authenticity, but I was able to confirm these masks using the 3M safeguard system! Super happy with my purchase, and I know that when I need more of any kind of PPE, I will return to Clinical Supplies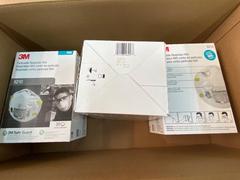 Stacy C.

United States
10/08/2020
3M 8210 N95 Mask NIOSH
I just purchased 20 of these. Arrived as specified. The price has dropped $50.00 since I purchased them (but I'm happy to see that). As pricey as these may seem, they are impossible to find! I would purchase these again. (My career was in nursing).
Brian A.

Australia
10/04/2020
It is such a good idea for people to always think of themselves when they buy things. That is what I like the most about myself and about all of the things that I have. When it comes to it I also like to say that this one is a good investment that I made. Making the investment and making sure that you have what you need at the time that you need it is good and I know that buying this mask is also good.
Payment & Security
Your payment information is processed securely. We do not store credit card details nor have access to your credit card information.