Description
This pack contains 20 kids KN95 masks with a pink pattern designed especially for girls, so they can feel more inspired to wear this protection item. In this pack you'll find KN95 masks that are smaller than regular KN95 masks intended to be used by adults as personal protection equipment or PPE on several work fields, such as de surgical or dental ones.
A smaller size protects the children's mouth and nose more securely, and prevents any particles from being inhaled by them. Respiratory hazards like viruses or dust are common causes of respiratory illnesses in children, and their protection against them is very important. This product is in stock for purchase at our online store and is selling out quickly, so we recommend any family with kids to purchase this pack while they're still available.
These masks are not N95 respirators and are not approved by the National Institute for Occupational Safety and Health (NIOSH) or the Food and Drug Administration (FDA). The KN95 mask is manufactured and certified under Chinese standards known as the GB2626-2006. Just like N95 respirators, KN95 masks have a minimum filtration efficiency of 95% of airborne particles. They are also not resistant to oil, making them optimal for protection against bioaerosols, like viruses.
Customer Reviews
Customer Reviews
Josephina R.
United States
10/09/2020
Perfect fit for my 9 year old daughter!
My daughter just returned to third grade, and I did not want her to go back to school with just a disposable mask. After finding many "kids masks" that were much too large, I found Clinical Supplies. Their kids KN95 was the first mask to fit my daughter, and I was also able to find some 3M 8210 respirators for my husband and I. To top it all off, the KN95 masks came in a cute pink color for my daughter who was worried about what the mask would look like to her friends.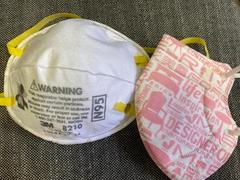 09/30/2020
Love the pattern and filtration rates!
09/27/2020
I feel much better about letting my kids go outside now that we have the KN95's
09/18/2020
Pattern is beautiful in person, kids are actually excited to wear this!
09/17/2020
I have a super small face, these kids masks are by and a far the most comfortable I have ever worn. Would recommend for all kids and small adults HAHA!
Payment & Security
Your payment information is processed securely. We do not store credit card details nor have access to your credit card information.